Archives for category:
Science
See the ad for this position (0.2 fte) at Leiden U here. You should apply before March 1!!!!
As you may know, since a couple of years I'm asked by the City of Rotterdam to investigate how its citizens experience the sonic quality of Rotterdam and to suggest some recommendations as how to improve the sonic public environment. After reports on the Hofplein square and the new ecological city park Hofbogen, this new report is on the Rijnhaven area where several residential towers will arise, next to a city park with a beach area and catering facilities.
The report can be found here
Quite recently the city council of Rotterdam has selected 7 public sites that should be transformed in the near future into spaces where people can relax and escape the urban hectic. One of these sites is a former train line, 6 meters above the ground, running from the city center to the northern suburbs. Central idea is that this former train line should become an ecologically justified park. In order to also make it sonically pleasant, the project management asked Michiel Huijsman (Soundtrackcity) and me to come up with some recommendations. The report, which contains also several audio files, can be found here (at the moment only in Dutch).
In April 2021 Michiel Huijsman (Soundtrackcity) and I published a report containing several recommendations on how to improve the sonic design of a rather busy roundabout in the city center of Rotterdam (The Netherlands). Idea behind the report is that Rotterdam wants to go greener, more sustainable, attract more biodiversity, etc. The report is based on sound walks with many residents and policy makers, a workshop sound, surveys (filled in by over 800 persons), field recordings, and the input of sound artists; it contains text (of course) but also several audio files and a solid introduction about the role of sound in public urban spaces. Caveat: the report is in Dutch but we're working on an English translation. The report can be accessed here.
Today, Saturday 22 February, a nice interview with me about sounds in and of the city. With attention to my collaborative projects in Leiden – the sound installation Fluisterende Wind and the report on the improvement of the sonic quality at the Garenmarkt – as well as to Jian Kang's project in Sheffield and Brigitte Schulte-Fortkamp's work in Berlin.
The interview can be found here, in the Dutch daily Trouw (therefore the text is also in Dutch).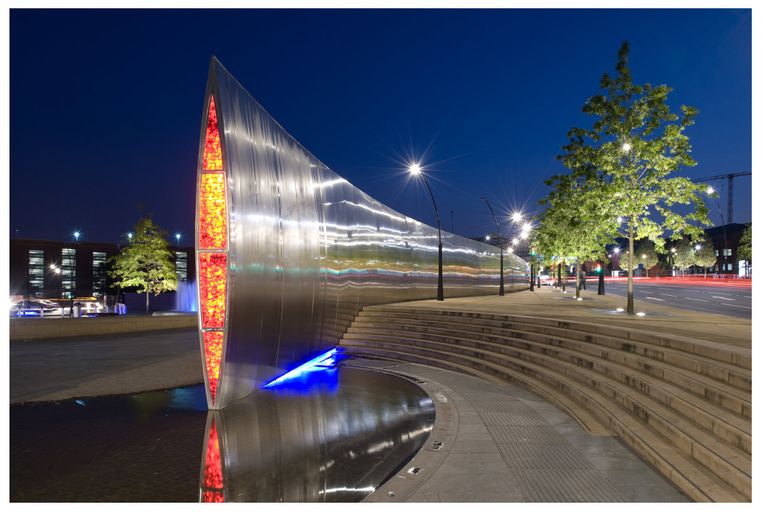 In September 2018 I have published a  Report  (in Dutch) commissioned by the city government of Leiden (NL) on the sonic redesigning of a public space (the Garenmarkt) in Leiden (co-authors Cilia Erens and Irene van Kamp). The report is based on a short research project, Cilia, Irene and I carried out between May and September 2018.
Photo: Cilia Erens
Find below a link to a short text, an audiofile with interviews with Edwin van der Heide and me, and lots of photos made during the opening ceremony of "Fluisterende Wind"
http://sleutelstad.nl/2017/12/01/auditief-kunstwerk-nieuwe-passage-leidse-hortus/
Whispering Wind (Fluisterende wind) is situated in the new passage that cuts right under the recently renovated P.J. Veth building of Leiden University. With this passage a new pathway between the Leiden Observatory and the Hortus Botanicus has been created. The artwork consists of a wall relief of 12.5 by 2.5 meters and an 8-channel generative sound composition. The composition creates a continuum between noise and human voice which results in moments when wind seems to be whispering.
Whispering Wind was established at the initiative of Marcel Cobussen, professor of Auditory Culture at the Academy of Creative and Performing Arts. Cobussen is also the founder of Phonotonie, a center that wants to draw particular attention to improving the auditory environment in urban areas.
The official opening will be performed by Robert Strijk, alderman of Economic Affairs, Accessibility, Culture and City Center of Leiden, on Wednesday, November 29, 2017 from 4:00 pm.
Finally it is there, my e-pub on improvisation and complex systems. And … thanks to Leiden University Press and the Academy of Creative and Performing Arts, it is for free as well.
Download for free:
E-PUB: http://hdl.handle.net/1887/52784
E-PDF: http://oapen.org/search?identifier=637220 
The central aim of this e-pub is to present a new approach to "the field of musical improvisation" (FMI), a theory which understands improvisation as a nonlinear dynamic and complex system. The study provocatively argues that during an improvisation more actants are "at work" than musicians alone: space, acoustics, instruments, audience, technicians, musical and socio-cultural backgrounds, technology, and the like all play a significant role. However, not all of these actants determine every improvisation to the same extent; some are more prominent and active than others in certain situations (periods, styles, cultures, as well as more singular circumstances). Therefore, the FMI theory will prove to be more than a theory dealing with improvisation "in general." Rather, FMI emphasizes singularity: each improvisation thus yields a different network of actants and interactions, a unique configuration or assembly.
It is startlingly original in so much as it brings a philosophical/social understanding to the field of musical improvisation. I've not really encountered a work that does this so imaginatively and thoroughly. Indeed – reading the work – I think the whole manuscript is one wonderful set of improvisations – and as such works very well. Michael Bull Professor of Sound Studies at the University of Sussex
Marcel Cobussen offers a concise and compelling account of musical improvisation that spans – and at times transgresses – conventional notions of musical genre and academic discipline. A wonderful approach that leverages the multimodal aspects of improvisation and of learning in general. Bravo! David Borgo Professor of Music at UC San Diego